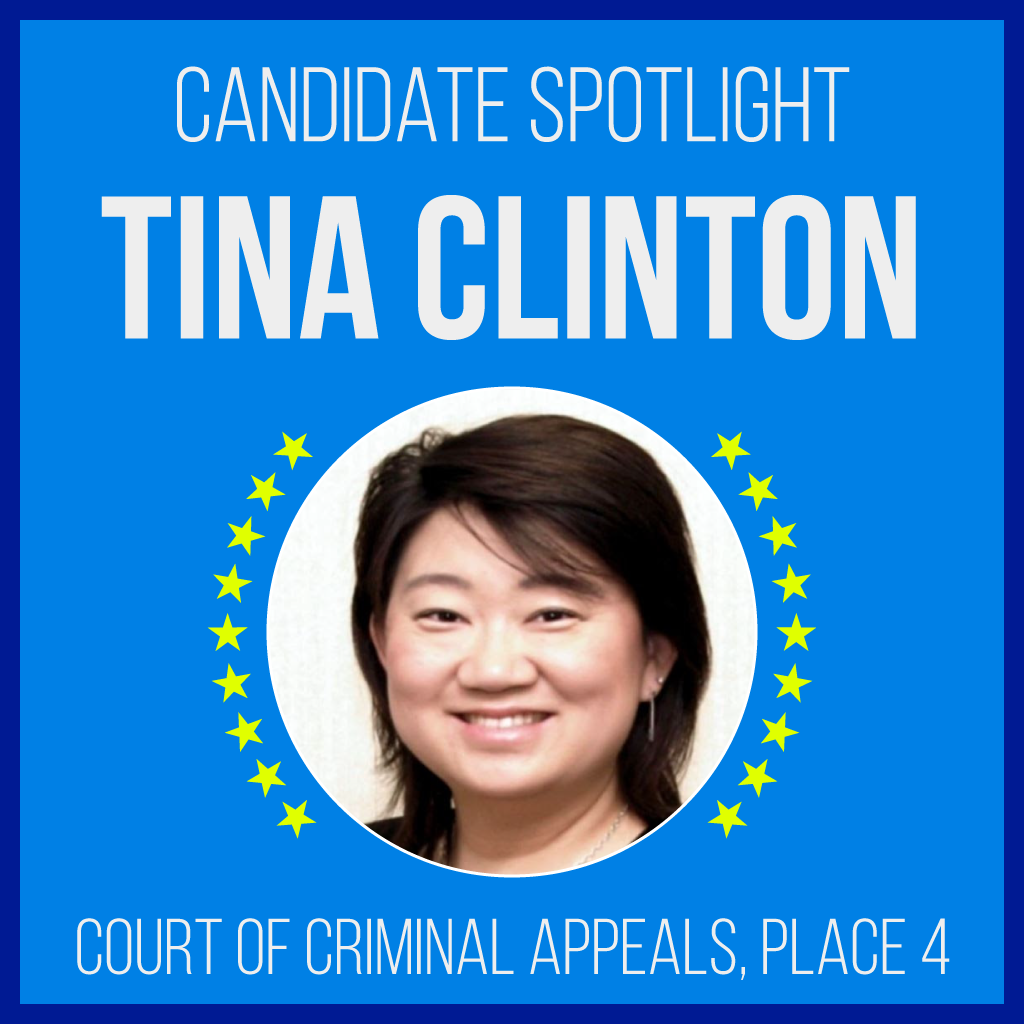 Running for: Texas Court of Criminal Appeals, Place 4
Why is this office important?
The Texas Court of Criminal Appeals is the court of last resort for all criminal matters in Texas. The Court chooses which cases it will hear, but capital punishment cases bypass intermediate appeals courts and are automatically appealed to this court. This court is comprised of a presiding judge and eight other judges, all of which are elected statewide. Currently, all judges on the Court are Republican.
As noted in this Texas Signal article, the Texas Court of Criminal Appeals has been dominated by Republicans, and in particular by white male justices. Fair and equal justice in this critical appellate position demands representation and diversity.
Why we support Tina
Tina Clinton has a B.A. from UT Austin, and a J.D. from SMU School of Law. She is a state felony district judge in the Criminal District Court in Dallas County with 25 years' experience as a prosecutor, defense attorney, municipal judge, county criminal court judge and state district court judge, including over 400 trials along the way. She is fair and efficient: during her time in County Criminal Court, she reduced the court's backlogged docket by 50 percent.
Moreover, she is a respected voice in the legal community. She has taught criminal law nationally, taught ethics to her fellow judges in Texas and served as faculty at New Judges College. She has taught and created classes for judges on technical topics like computer forensics which have become increasingly important in today's criminal cases. Importantly, she brings a fresh perspective to the bench as a first generation immigrant and as an Asian-American woman.
"It's important that judges reflect the diversity of society. One's background is important for so many reasons… When judges reflect the diversity of our great State (racial diversity, political diversity, philosophical diversity, experiential diversity) we can bring fairness and balance to our highest criminal courts in Texas."

Tina Clinton
Learn more about Tina