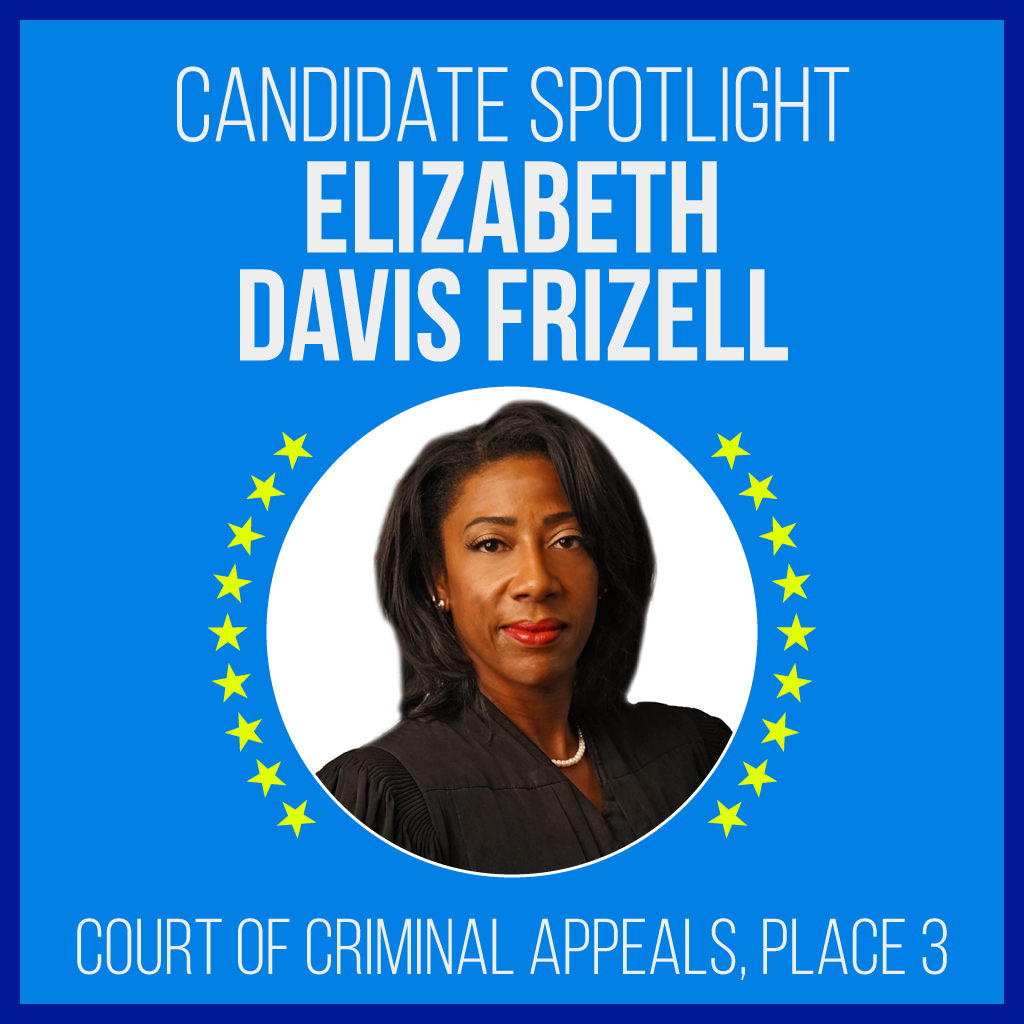 Running for: Texas Court of Criminal Appeals, Place 3
Why is this office important?
The Texas Court of Criminal Appeals is the court of last resort for all criminal matters in Texas. The Court chooses which cases it will hear, but capital punishment cases bypass intermediate appeals courts and are automatically appealed to this court. This court is comprised of a presiding judge and eight other judges, all of which are elected statewide. Currently, all judges on the Court are Republican.
As noted in this Texas Signal article, Texas has executed more people over the last 50 years than 45 other states combined. Over the last five years, 70% of death sentences were imposed on people of color. While Black people are just 13% of the population of Texas, they comprise more than 44% of those on death row and nearly 40% of those ultimately executed. Racial justice is overdue and on the ballot.
Why we support Elizabeth
Elizabeth Davis Frizell has a B.A. from Prairie View A&M University, and a J.D. from Thurgood Marshall School of Law. She has 26 years of legal experience in both private and public practice, and 20 years of judicial experience at the municipal, county and district court levels.
Her priorities are to:
Address disparate sentencing: "…assess whether trial court judges throughout Texas are permitting mitigating circumstances to be considered during the sentencing phase of trials…, which will help reduce mass incarceration."
Address death penalty cases: "…ensure defendants have fair trials and that objections to questions and evidence are properly ruled on… also allow claims of actual innocence to be fully presented and argued at the appellate level."
Reduce wrongful convictions: "…ensure that errors that affect the outcome of cases are reversible based on the law and the facts of each individual case… prevent wrongful convictions at the trial court level, before defendants serve time in prison for offenses they did not commit."
"When elected for Judge, it is my goal to bring balance to the highest Criminal Court in the State of Texas and ensure fairness in the trial process and sentencing."

Elizabeth Davis Frizell
Learn more about Elizabeth