by Laura Bray
for the "Progressive Views" column, Boerne Star, February 25, 2022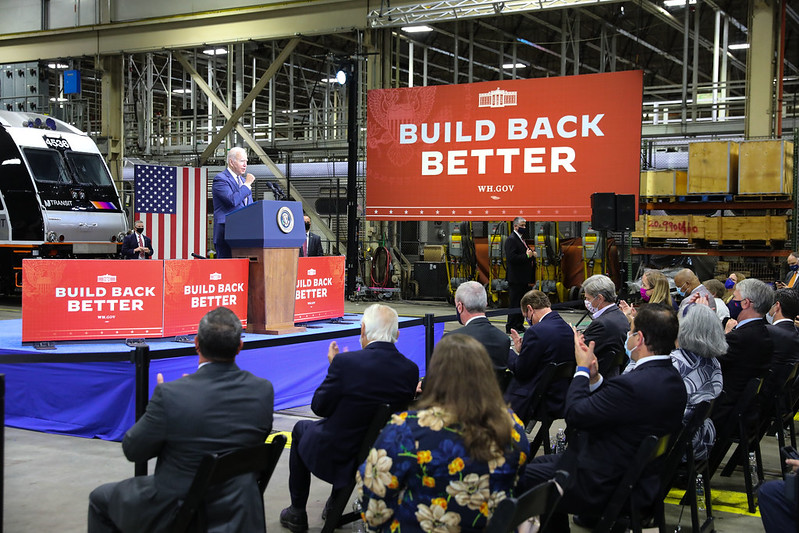 President Biden's Build Back Better (BBB) framework will make life better for Texas families. To make things easier for working Texans, President Biden's plan will:
Provide child care for more than 2 million Texas kids every year, and make sure no family has to spend more than 7% of their income on this child care.
Allow almost 600,000 new 3- and 4- year olds to attend preschool for free — and make sure they're getting the highest quality care possible.
Extend the Child Tax Credit so that working families keep getting money in their pockets to help with the high costs of raising kids — leading to the biggest one-year reduction in child poverty in our country's history.
Give 1.5 million Texan low-income workers a tax cut of up to $1,500.
Help keep Texans safe from extreme weather like droughts and hurricanes, by combating climate change — and for farmers and ranchers who are dealing with more unpredictable weather, President Biden's action on climate change will help protect Texans' livelihoods.

President Biden's infrastructure deal has officially passed, and Texas is going to see major benefits from this historic investment in our country's infrastructure. Of the $1.2 trillion this bill will spend to restore our country's roads, bridges, pipes, ports, and broadband access, more than $35 billion will be coming to Texas.
This is an historic moment that will improve the lives of millions of Texans for generations to come. President Biden's Infrastructure Deal is a giant step towards modernizing Texas. It will create a stronger economy and foundation that will help Texans build back better than ever before.
What this generation-defining legislation means for our state is:
Shorter, easier days for working folks who commute every morning, or parents who pick their kids up from school every afternoon. Texas has nearly 20,000 miles of highways in desperate need of repair. With funding from President Biden's infrastructure deal, we're going to get revitalized roads in every corner of our state — and more public transportation all across Texas.
More opportunities for Texans to do business, pursue a degree, get health care, and stay connected. Right now, 14% of Texas households don't have an internet connection. This legislation's $100 million investment in expanding broadband will help level the playing field for that 14% of Texas families — especially in rural communities.
Safer communities and a better buffer against extreme weather caused by climate change. But now, Texans have President Biden to thank for this bill's historic $3.5 billion national investment in weatherization. These funds will go a long way to building Texas' resilience against the looming threat of more extreme weather events on the horizon.
This is what it looks like to have strong Democratic leadership — and this is why we can't stop working to elect more Democrats to all levels of leadership in our state.
President Biden's infrastructure bill is truly a massive achievement. This is going to help create a more equitable, well-connected Texas and make life better for millions of people across our state.
Upon taking office, President Biden worked to immediately address the nation's health and economic crisis by passing the American Rescue Plan. President Biden's first year saw the greatest year of job creation in American history, with more than 6 million jobs created. The unemployment rate dropped from 6.2% when he took office to 3.9% –– the biggest single year drop in American history. When the President was sworn in, over 18 million were receiving unemployment benefits. Today, only 2 million are—also the biggest single year drop in history.
Under the President's leadership—and thanks to the grit and resilience of the American people—our economy is getting back on track.

Election Day for the Democratic (and Republican) Primary is this Tuesday, March 1. Polls are open from 7am-7pm. Voters registered in Kendall County can vote at any of the eleven polling locations in the county. (You can find a list in this newspaper or on the Kendall County Elections Dept. website.) Note that the Elections Office (on Fawn Valley Dr), where early voting took place, is not a polling location on Election Day. We need all local Democrats to vote in the Democratic Primary, so we can field the strongest slate of candidates for the November mid-term election. For more information on voting or elections, call our office at 830-331-1243 or visit www.kcdems.us
Laura Bray is Chair of the Kendall County Democratic Party. The Texas Democratic Party Communications Dept. contributed to this article.
Ready to get involved?
Learn more about upcoming opportunities to take action online and/or in our own community.