by Kevin Henning, KCDP Chair
for the KCDP weekly newsletter, April 12, 2020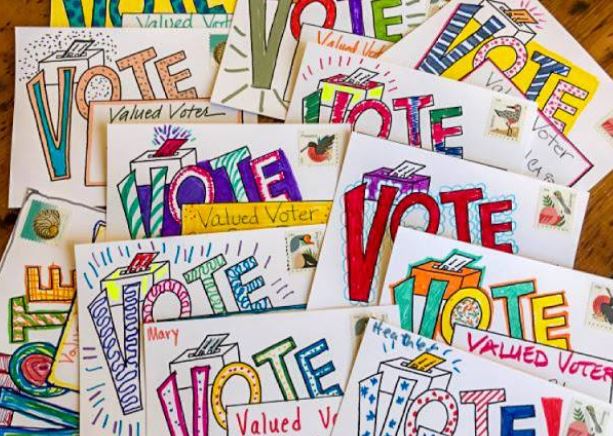 "You're stayin' engaged, stayin' engaged
Feel the city breakin' and everybody shakin'
I'm a-stayin' engaged, stayin' engaged
Ah, ah, ah, ah, stayin' engaged stayin' engaged
Ah, ah, ah, ah, stayin' en–ga–ged"
A slight change to the Bee Gees great hit to remind us that we still have so much to do even if we are stuck at home. Laura Bray has organized a Virtual Happy Hour and a Post Card Party. She is also giving us lots of information on what we can do from home and links to great virtual training. Becky Strain reminds us of the importance of determination, like that demonstrated by Wisconsin voters as a result of Wisconsin Republican's still allowing a stupid and dangerous election in May. That election could have easily been moved back. Becky is also coordinating developing our 2020 Presidential Election "Get Out the Vote" plan. Details will be available early in May. There will be lots for all of us to do.
Continuing the theme of staying engaged…
Wendy Davis
If you haven't already checked out the Davis TX-21 Congressional Campaign, visit her website now. At her briefing Friday she said that she would need $7 to $8 million to defeat Chip Roy. If I remember correctly, Joseph Kopser spent a good bit over $3 million in 2018 in his effort that almost defeated Roy. Wendy has national attention and her race, while difficult, is viewed as winnable so she will be getting help from many places. We all need to step up and support her with donations of course but also by volunteering. Given social distancing, she is looking for virtual volunteers right now and you can sign up on her website. This will quite a race and the KCDP will be in the thick of the campaign.
Runoff Election
Concerning the Runoff Election now scheduled for July 14, the Texas Democratic Party (TDP) has filed two lawsuits to fight for all Texans' right to vote by mail. Hearings will be occurring this week and I will update you in next week's newsletter. One thing for sure anyone 65 or older can vote by mail and if you are at all concerned about voting in person next July and are not already doing vote by mail, you should request a mail-in ballot. The TDP will be sending us information on the VBM program they are developing which we will implement. In next week's newsletter we'll provide more details on the TDP program and on how to apply for a mail-in ballot. Hopefully, it will extend to anyone concerned about voting in person.
Lots has changed as a result of the pandemic
The May Boerne City election has been moved to November.
The runoff election is now set for July 14, 2020.
TDP State Convention will be virtual and will be in the middle of July.
The Democratic Nation Convention has moved from mid-July to mid-August.
We'll get more details out as soon as we know them. Until then please stay engaged and thank you all for your support of the KCDP.
This week's newsletter
Learn more about lots of ways to get involved and stay active at home, and more!
Subscribe to our newsletter
News from the Kendall County Democratic Party in your inbox every week