by Kevin Henning, KCDP Chair
for the KCDP weekly newsletter, August 16, 2020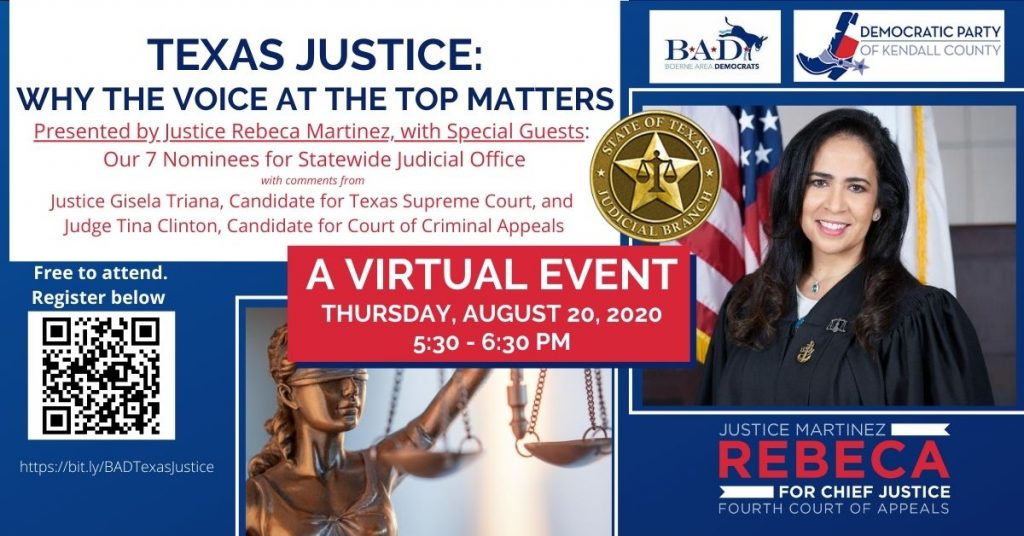 Are you ready for a great event?
Next Thursday, August 20, 2020 we will have the great honor to spend an hour with Justice Rebeca Martinez and special guests. Justice Martinez, who is running for Chief Justice of the 4th. Court of Appeals, will brief us on Texas Justice, and introduce seven special guests who are running Statewide Judicial office.
The importance of electing Democrats to judicial offices cannot be underestimated and educating folks to vote the entire ballot is critical. Also, these candidates need donations to help them win. Please support them with your vote and your pocketbook.
Here's a link to donate: https://www.rebeca4chief.com/#Donate
To attend the event, register at: https://bit.ly/BADTexasJustice
Our goal for the November election is to motivate every Democrat and progressive leaning person in Kendall County to vote. To do that we will need every Democrat to understand the importance of voting for our talented and dedicated Democratic Judicial Candidates.
Remember DON'T STOP AT THE TOP – VOTE FOR EVERY DEMOCRAT. 
See you next Thursday at 5:30 p.m.!
Potential postal slowdown
I know we all have been stressing and venting about the actions the administration is talking about and taking concerning the Post Office. I suggest on Monday we all call Chip Roy's San Antonio office and tell him we want the Post Office properly funded and that mail in ballots be handled on a priorIty basis.
Also, if you vote by mail please return your ballot promptly so you can be sure it gets to the Election Office. Ballots will be mailed out starting in early October. You can and should check that your ballot is received by calling the election office or checking on-line. We'll provide more details on all aspects of voting in future newsletters and in Progressive Views columns which can be found on the KCDP website.
Call Chip Roy's San Antonio Office and be heard!
Phone: (210) 821-5024
Stay Safe and Stay Engaged!
This week's newsletter
Learn more about Stephanie Phillips for HD73, planting a Democracy Garden, and much more!
Subscribe to our newsletter
News from the Kendall County Democratic Party in your inbox every week