by Susan Dollar, President of Boerne Area Democrats
for the "Progressive Views" column, Boerne Star, February 21, 2020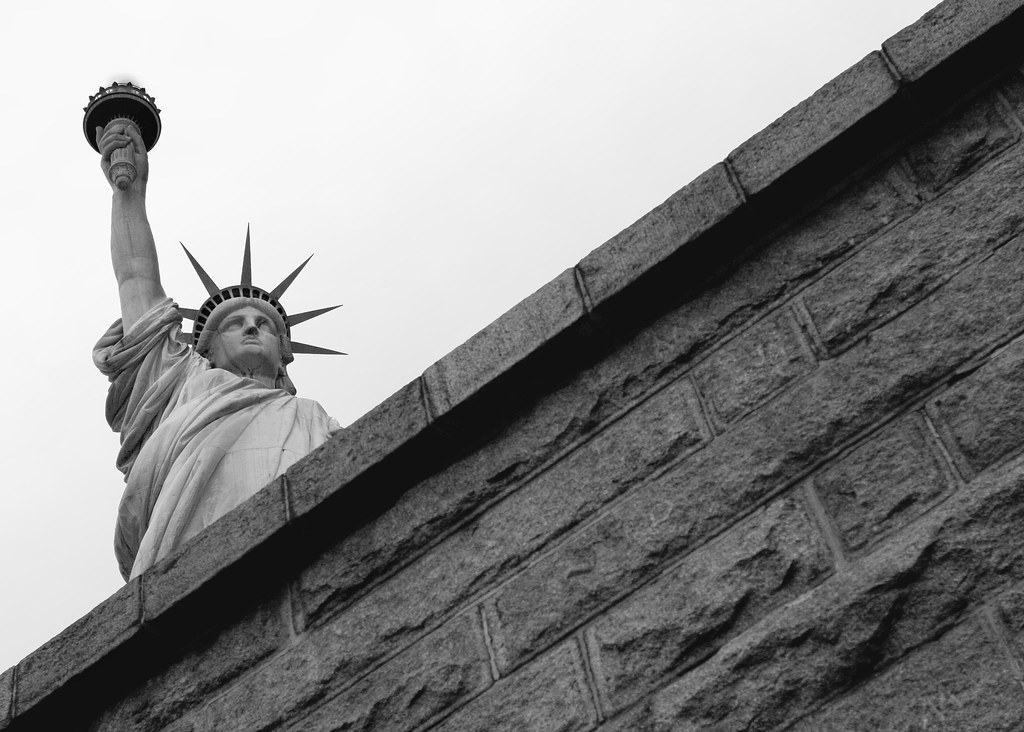 Last week, I shared some information on the difference between "refugees" and "immigrants." Here's more on what happens after refugees arrive in the US.
Once an assurance of placement has been secured for the refugee and medical examinations and security checks have been completed, Resettlement Support Centers (RSCs) work together with the International Organization for Migration to schedule and arrange refugee travel to the United States. Before departing their home country, refugees sign a promissory note to repay the United States for their travel costs. This travel loan is an interest-free loan that refugees begin to pay back six months after arriving in the country.
After arrival to the U.S., all refugees are checked at the airport by a U.S. Customs and Border Protection (CBP) officer to ensure they are the same people that were screened and approved for admission.
After they arrive in the United States, refugees are sponsored by local affiliates of the nine approved national resettlement agencies, which facilitate refugees' integration into American society. Two federally funded cash assistance programs help low-income refugees on their path to self-sufficiency: Temporary Assistance for Needy Families (TANF) for those with dependent minor children and Refugee Cash Assistance (RCA) for those who do not qualify for TANF.
Both programs are funded and administered by the Administration for Children and Families within the U.S. Department of Health and Human Services. States have broad flexibility in implementing TANF and RCA programs and the related employment services. As a Public-Private Partnership, Texas has the option to partner with a resettlement agency to administer the cash assistance program. Under this model, local resettlement agencies provide the cash assistance and services while the state agency is responsible for policy and administrative oversight.
Meeting essential basic needs
The RCA Program helps refugees by providing cash and medical assistance (Refugee Medical Assistance program) during their first eight months in the U.S. A family of two receives up to $420; If one or both of the couple are working, half of their earnings count against their grant. A family of two that earns over $839 per month is no longer eligible to receive RCA.
To be eligible for RCA, a refugee must provide documents issued by the U.S. Citizenship and Immigration Services (CIS) verifying their immigration status and date of arrival into the U.S.; provide the name of the voluntary agency (VOLAG) that resettled them; meet immigration status requirements; meet work and training requirements; and meet income and resource requirements.
Some refugee families with children age 18 and younger are eligible for Temporary Assistance for Needy Families (TANF); the assistance ranges between $102-432 per month, depending upon the number of children, and may last for 12 months-5 years, depending upon the state requirements.
Refugees are also eligible to receive eight months of health insurance at no cost. The U.S. Committee for Refugees and Immigrants (USCRI) administers the Refugee Medical Assistance programs. Some persons are eligible for Medicaid if a refugee is a child, an adult who cares for a child in his or her home, is pregnant, is 65 years old or older, or has a disability.
Employment and education
Upon arrival in the U.S., refugees receive employment authorization and are encouraged to become employed as soon as possible so that they can support themselves.  All cash assistance recipients are expected to participate in employment-related services, unless exempt due to physical or mental health challenges.  Refugees may also access other self-sufficiency activities such as job readiness workshops, transportation assistance, and ESL classes. The goal is to encourage newly resettled refugees to become economically self-sufficient and integrate quickly into their new communities.
Ms. Willoughby questions the cost of educating "immigrants."  Thomas Jefferson once said, "Educate and inform the whole mass of the people. Enable them to see that it is their interest to preserve peace and order, and they will preserve them. . . . [The people] are the only sure reliance for the preservation of our liberty."  Access to education is a fundamental human right. It is essential to the acquisition of knowledge and to "the full development of the human personality," as stated by the Universal Declaration of Human Rights.
The education of refugees is crucial to the peaceful and sustainable development of the countries that have welcomed them.  Yet for millions of refugees, education remains an aspiration, not a reality. For refugee children, education will provide the knowledge and skills to rebuild their lives and chart a path to a more peaceful and prosperous future for themselves, their families, and their new homeland.  Education will lift refugees out of poverty and allow them to participate meaningfully in our society.  
Read more about refugees and immigration