By Laura Bray
for the "Progressive Views" column, Boerne Star, February 11, 2023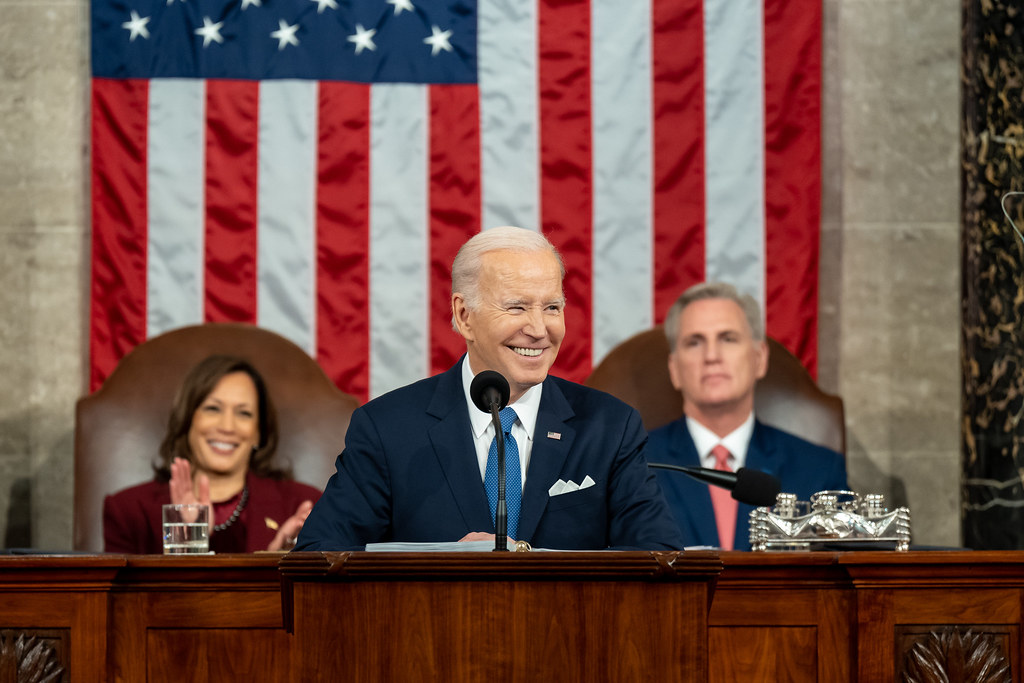 President Biden presented a strong State of the Union address this past Tuesday evening. Some highlights:
The President highlighted the many legislative accomplishments of the past two years, including many with bipartisan support. He said, "I define our country in one word: Possibilities. Time and again [over the past two years], Democrats and Republicans came together." Congress passed a once-in-a-generation infrastructure law and the Respect for Marriage Act; a law to help veterans exposed to toxic burn pits; and reauthorized the Violence Against Women Act. Congress also passed the CHIPS and Science Act to bring chip manufacturing back to the United States from overseas, and passed the Electoral Count Reform Act. According to the National Conference of State Legislatures, this bill is particularly important, as it clarifies "the role of the vice president as 'solely ministerial' and clarifies that Congress must defer to [electoral] slates as determined by the states." According to Dan Rather on his Substack feed, "The last Congress was one of the most productive legislative sessions in recent memory and passed significant bills on a wide swath of policy issues."
The "unemployment rate [is] at 3.4%, a 50-year low. We have created a record 12 million new jobs, more jobs created in two years than any president has ever created in four years. We've already created 800,000 good-paying manufacturing jobs, the fastest growth in 40 years. Where is it written that America can't lead the world in manufacturing again? We're going to make sure the supply chain for America begins in America." The President announced new standards to "require all construction materials used in federal infrastructure projects to be made in America." In addition, inflation and gas prices are coming down and a record number of Americans are starting businesses.
"We're making sure that every community has access to affordable, high-speed internet. No parent should have to drive to a McDonald's parking lot so their kid can do their homework online." The bipartisan Infrastructure Law will provide funding to increase access in rural areas to broadband services, making this essential service available to more Kendall County residents.
"We pay more for prescription drugs than any major country on Earth. Every day, millions need insulin to control their diabetes so they can stay alive. Insulin costs drug companies just $10 a vial to make. But Big Pharma has been unfairly charging people hundreds of dollars – and making record profits." The Inflation Reduction Act caps insulin prices at $35 for seniors on Medicare. The President stated his goal to "finish the job" and cap insulin prices for everyone. He also vowed to veto any attempt to raise prescription drug prices.
The President stated his goal to make "the wealthiest and the biggest corporations begin to pay their fair share" in taxes. "The idea that in 2020, 55 of the biggest companies in America made $40 billion in profits and paid zero in federal income taxes? That's simply not fair. Let's finish the job. Pass my proposal for a billionaire minimum tax. Because no billionaire should pay a lower tax rate than a school teacher or a firefighter."
The President expressed his strong support for public education. "12 years [of public education] is not enough to win the economic competition for the 21st Century. If you want America to have the best-educated workforce, let's finish the job by providing access to pre-school for 3- and 4-year-olds, [giving] public school teachers a raise, and [providing] two years of community college." I'll say more about education funding in Texas in a future column.
"For the last few years our democracy has been threatened, attacked, and put at risk. There is no place for political violence in America. We must protect the right to vote, not suppress that fundamental right." It's appalling that this sentiment wasn't supported by everyone in the room; nearly half the room did not stand for that blatantly obvious statement. According to the Texas Tribune, "voting laws in Texas are the most restrictive in the country." And the Texas Legislature is once again considering multiple bills that would make it even harder to vote in Texas, not easier. The Democratic Party will continue its fight against these changes. The President said, "We must see each other not as enemies, but as fellow Americans."
The President has accomplished much in the past two years and showed that we can work together to make this country and state stronger. For more information on how to get involved with the Kendall County Democratic Party or Boerne Area Democrats, visit www.kcdems.us.
Laura Bray is the Chair of the Kendall County Democratic Party.
Ready to get involved?
Learn more about upcoming opportunities to take action online and/or in our own community.