by Kevin Henning, KCDP Chair
for the KCDP weekly newsletter, February 16, 2020
Stress and anxiety are the result of caring about your fellow human beings, the creatures of the earth, the environment and the evil being perpetrated by the current genre of Republicans. When our party in Iowa screws up their caucus results (as we have now heard, Republicans contributed to the problem) it unfortunately reflects on the integrity of real election systems like we use here in Texas, folks get more stressed. When I get bummed, I listen to Bobby McFerrin's "Don't Worry Be Happy" other folks do yoga, exercise or cuss a little. Ultimately, we must turn our stress and emotions into action that will get some Democrats elected to reverse the horrific direction of our current government in Austin and Washington.
About the time I am down, usually something wonderful happens. Someone writes a terrific Progressive Views Column, a volunteer does hundreds of phone bank calls or we get a note like the one below. This young man left some goodies at the office and this wonderful note which will keep me going for a long, long time. How about you, what are you doing to make 2020 a real year of change?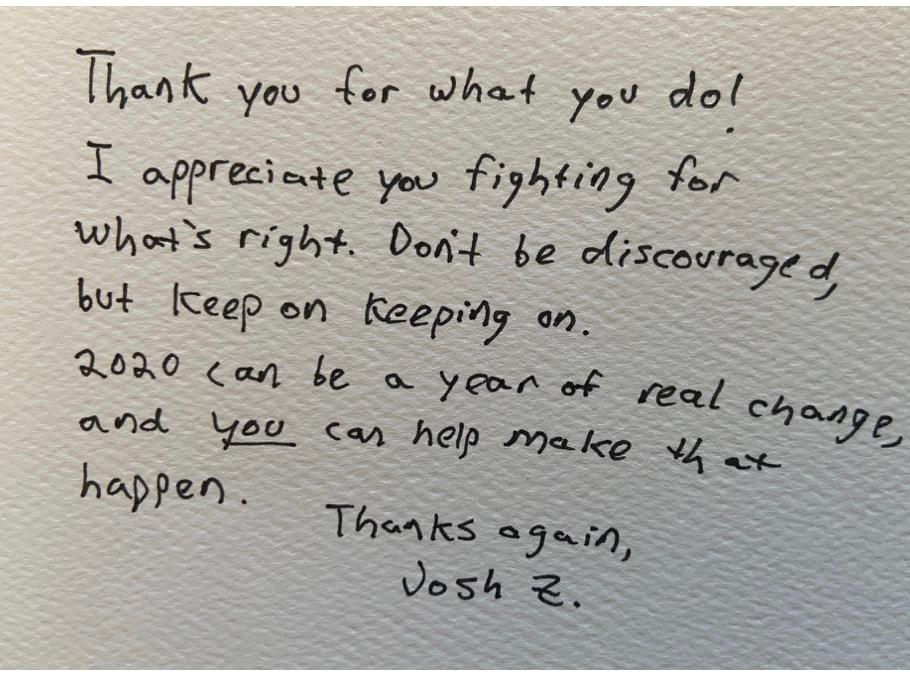 The Kendall County Democratic Party encourages you to vote in the Democratic Primary and to make a vote plan prior to going to your polling location.
This week's newsletter
Learn more about our upcoming primaries, county convention, and more!
Subscribe to our newsletter
News from the Kendall County Democratic Party in your inbox every week