by Laura Bray
for the "Progressive Views" column, Boerne Star, August 27, 2021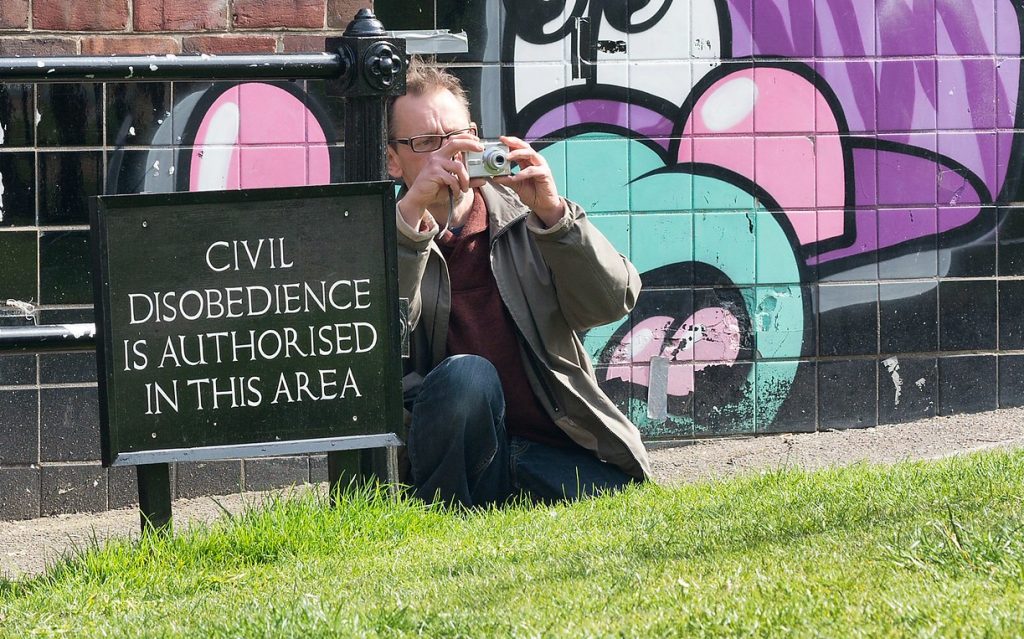 The term "civil disobedience" was popularized by Henry David Thoreau in his essay "Resistance to Civil Government," published posthumously as "Essay on Civil Disobedience" (even if the concept had been in practice long before). Per Merriam-Webster, the term means "refusal to obey governmental demands or commands especially as a nonviolent and usually collective means of forcing concessions from the government."
I saw a great term on Twitter last week about what's going on with school districts and localities across the state over mask mandates: "civic disobedience." (First referenced by @rotkoff, who doesn't take credit for the term, either.) "Civic disobedience" describes exactly what's going on right now, and we at the Kendall County Democratic Party fully support it.
(Note that all the below information was current at time of the writing of this column—Tuesday morning.)
The Centers for Disease Control (CDC) "recommends universal indoor masking by all students, staff, teachers, and visitors to K-12 schools, regardless of vaccination status." Good for the brave school districts and localities that are acting based on scientific guidance and recommendations.
Nearby school districts such as Northside ISD (directly to the south of Boerne ISD), as well as the City of San Antonio and Bexar County, have issued their own mask mandates to protect their students and citizens from the rapidly spreading Delta variant of COVID, and courts have (so far) supported those mandates. San Antonio Mayor Ron Nirenberg said, "Every day our unvaccinated children are protected at school by masks, which have been proven to be effective, is a win for our community." Boerne ISD, on the other hand, announced a "masks are optional" policy.
Houston Chronicle columnist Erica Grieder writes, "It seems that Texans support the local officials who are leading the charge to protect public health — and the state's schoolchildren — due to their concerns over the delta variant, their enduring support for local control or both."
A poll conducted by the Associated Press-NORC Center for Public Affairs Research found "As the Delta variant surges, about 60% of adults feel both students and teachers should be required to wear face masks while in school as a response to the pandemic."
Initially, the Texas Education Agency (TEA) issued guidance that schools did not have to inform parents of any COVID cases at schools. TEA has since reversed that guidance, so now parents will learn when their children have been exposed to COVID at school. The original decision simply boggled the mind—schools were required to inform parents of a lice outbreak, but not COVID?
Prof. Peter Hotez (Dean of the National School of Tropical Medicine at the Texas Medical Center and a COVID expert) said in a recent television interview, "You're going to see a lot more pediatric hospitalizations and ICU and pediatric ICU admissions because of [the lack of masks in schools], and that's all the more reason why we have to really double down on mask and vaccine mandates." On August 19, the president of the Texas Medical Center said that 18% of new COVID cases are kids.
School closures have already begun. On August 22, Beaumont ISD closed a charter middle school for a week due to COVID cases. Schools in the small west Texas town of Iraan have closed. Other schools and districts are on the verge of the same.
Vaccination, masking, and social distancing are not just about protecting yourself from COVID. These measures are a compassionate response to those in our community who cannot yet be vaccinated, like children under 12, the immunocompromised (such as those on chemotherapy), and others with medical or religious reasons for not getting vaccinated.
On August 19 on a conservative TV talk show, the lieutenant governor stated that "the biggest group in most states are African Americans who have not been vaccinated," a reprehensible and demonstrably false claim that does absolutely nothing to increase vaccination uptake in the state. An analysis by the Kaiser Family Foundation found that white adults account for the largest share of unvaccinated adults.
Last week, the Texas Democratic Party (TDP) issued a statement "welcoming President Biden's leadership" in imposing a "COVID-19 vaccine mandate for all nursing home staff in order for the facilities to continue receiving Medicare and Medicaid funding. The President also recently required all federal employees to get vaccinated."
So here's to civic disobedience. May we see more of it, given our current lack of state-level political leadership in the face of crisis.
Ready to get involved?
Learn more about upcoming opportunities to take action online and/or in our own community.