by Alia Chryssolor and Laura Bray
for the "Progressive Views" column, Boerne Star, December 20, 2019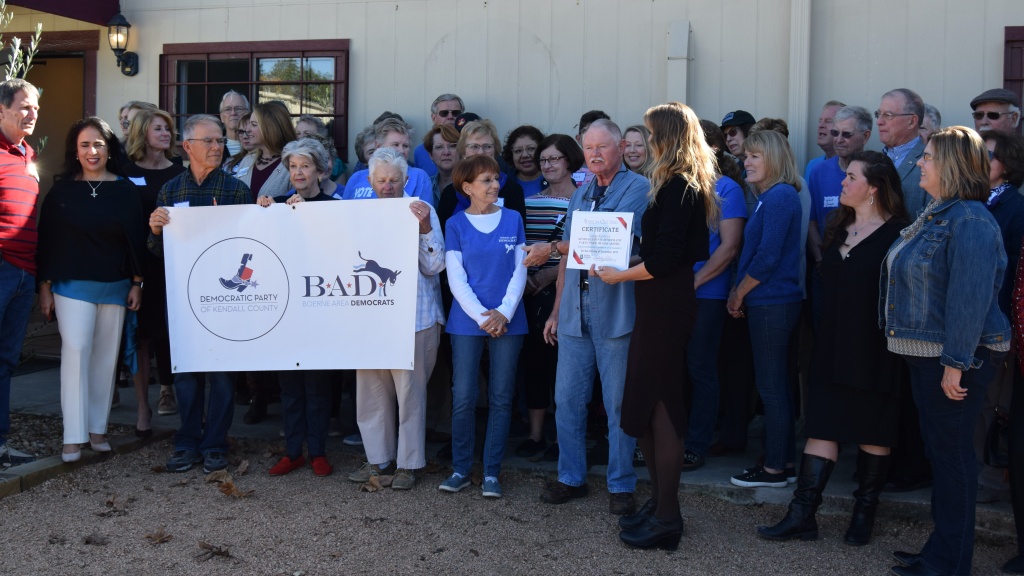 In response to Keith Domke's unbalanced article in last week's Boerne Star regarding the lack of Democratic candidates in Kendall County's upcoming 2020 elections, we at the Kendall County Democratic Party (KCDP) thought we'd share our perspective on the situation, since our own comments were not considered essential to the article.
Volunteers working for change
While there may not be any local candidates, we have some seriously amazing candidates upstream. Our dedicated team of volunteers have committed to ensuring their success through a wide variety of activities. Allow us to reflect upon and celebrate how hard these volunteers work.
We have an office at 518 E. Blanco with regular office hours beginning in January. This required countless hours of fundraising activities, a dedicated group of monthly donors, and months of searching for locations. Staffing the office with volunteers and setting up the office to serve multiple purposes were also implemented.
We have a visually stunning "living" website that is updated multiple times a week by a highly skilled webmaster with content generated by passionate and creative volunteer writers. Our website also offers critical voter information to all Kendall County residents.
Our team of precinct chairs spend weeks contacting local Democrats and encouraging them to vote for every election – big and small.
Speaking of precinct chairs, these volunteers also attend monthly leadership meetings to update everyone on their activities. We also hold monthly media team meetings with volunteers who are charged with disseminating information to the public. The Boerne Area Democrats, our local Democratic club, also hold monthly meetings – organized by volunteers – that feature timely and relevant speakers.
We also generate a weekly newsletter that is curated and distributed by volunteers. The newsletter informs our subscribers of upcoming events and other important happenings.
The same is true for our social media accounts. Our engagement on social media is the highest of any political party in Kendall County. Our volunteers carefully curate news articles, events, and engaging content for our followers.
Not only do our volunteers work towards the KCDP's goals, they also support Kendall County and Texas charities as a group. Just in the past two months, KCDP raised money for Hill Country Family Services on Giving Tuesday, the Boerne Area Democrats donated clothing and bedding to border refugees, and donated hundreds of pounds of pet food to the Kendall County Animal Shelter and Adoption Center. Isn't it amazing how many hard-working people we have for such a small group?
Changing Kendall County
It's not exactly headline news that "No Democrats [run] in local primary." Since 1992 (the earliest year for which online results are available), only two Democrats have run for local office in Kendall County.
Our Kendall Democratic friends have encountered consistent adversity in recent years from some of our neighbors. We have had candidate signs stolen or vandalized from our lawns, cars keyed and wipers broken off, been cut off in traffic, and been shunned from some social groups—simply because some of our neighbors appear to find us personally responsible for the woes of Washington DC.
These actions are intended to intimidate and belittle – but they aren't going to work. This is our home too, and we aren't going anywhere. In a sense, we're victims of our own growth and success; those who disagree try to silence our ever-louder voices in whatever ways they can.
We become stronger as a group in the face of such adversity. Like desert foxes, we Kendall Democrats, too, will survive and thrive in a harsh atmosphere—while at the same time, working hard to make Kendall County a place where local Democrats can feel free and safe to express their political opinions.
As a result of all our coordinated activity in the past 18 months, our Democratic base in Kendall County continues to grow in numbers and active involvement. The Boerne Area Democrats had a membership of about 40 in mid-2017. It's greater than 170 members now!
More and more people sign up every month to further KCDPs core principles of Justice, Respect, Compassion, and Diversity. We have a great story and will be working hard to realize our objectives. We want to make Kendall, our state, our nation and the world a better place.
In short, we aren't going anywhere, nor are we staying silent! Join us!