by Laura Bray
for the "Progressive Views" column, Boerne Star, May 27 2022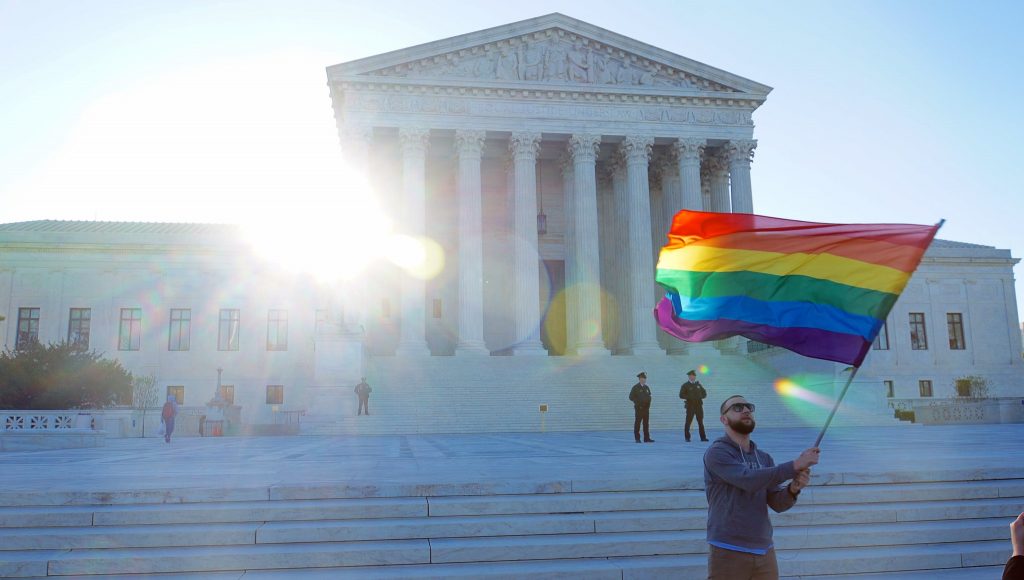 The annual Boerne Pride March, sponsored by PFLAG and Touchstone Community Church, is Saturday, June 11 at the Patrick Heath Public Library amphitheater. The event starts at 10:00am, with a few speakers. At 10:30, participants will leave the amphitheater, walk up Main Street to River Road, then back to the amphitheater, in a show of support for the local LGTBQ+ community. Members of the Kendall County Democratic Party (KCDP) and our local club, the Boerne Area Democrats, will be there in force, holding our rainbow flags and wearing our rainbow shirts, ribbons, and hats. Please join us to show your support.
Last year's march drew over 600 participants. Organizers are hoping for an even bigger crowd this year.
PFLAG (Parents and Friends of Lesbians and Gays) has a local chapter here in Boerne, founded in 2014. Their mission is to provide confidential peer support, education, and advocacy to LGBTQ+ people, their parents and families, and allies. The chapter meets at the library at 6:30pm on third Tuesdays of each month. President Sani Hogan began a group for youth and young adults called Kaleidoscope Hearts which meets on the fourth Tuesdays at 6:30pm, also at the library. Touchstone Community Church was founded in 2019 to provide an open and affirming community of faith that embraces all people just as they are to worship and serve and which stands in solidarity with the marginalized in Boerne seeking Justice wherever justice is denied.
According to a 2022 Gallup poll, "The percentage of U.S. adults who self-identify as lesbian, gay, bisexual, transgender or something other than heterosexual has increased to a new high of 7.1%." Unfortunately, members of this community are still subject to harassment, bullying, and widespread discrimination. According to the advocacy group Texas Freedom Network, "Texas remains a state where LGBTQ+ individuals can be fired from their job, denied a place to live, or refused service at a business simply because of who they are or whom they love." According to the advocacy group The Trevor Project, "Suicide is the second leading cause of death among young people aged 10 to 24, and LGBTQ+ youth are more than four times as likely to attempt suicide than their peers." Strong community support is crucial to reducing this discrimination and rate of suicide.
Rev. Kerry Kirtley, Pastor and co-founder of Touchstone Community Church, said, "We are seeking businesses who support LGBTQ+ persons and their rights. We'll provide a small rainbow sticker for the business window for anyone who wants one. The more people who show their support, the safer our community becomes. Such support helps our queer community members know they can shop and dine and be welcomed and affirmed in the establishment." Interested business owners should email info@pflagboerne.org
The local chapter of PFLAG has been relentless in their support of LGBTQ youth in Boerne ISD (BISD). Hogan and other PFLAG members have been a consistent voice, speaking at monthly school board meetings in support of our LGBTQ+ youth. Several members have stood outside of the meetings on the street with signs of support.
Kirtley said, "Having raised a gay son in BISD in the 90s to 2006, I thought we would be farther along by now. Rights are not as protected as they could be by the administration and staff. That being said: two years ago, BISD allowed the Gay Straight Alliance Club (a student-led alliance group for LGBTQ+ students) to meet. This is progress, as a few years ago the students were not allowed to have such a group."
Kirtley continued, "I am for Boerne, BISD, and our community. All people matter, and we can do the best we can do by learning when and how we can do better for our town. Little things count."
For more information on how to support the local LGBTQ+ community or how to get involved, call our office at 830-331-1243 or visit www.kcdems.us
Laura Bray is Chair of the Kendall County Democratic Party.
Ready to get involved?
Learn more about upcoming opportunities to take action online and/or in our own community.