by Steven M. Smith, Ph.D.
for the "Progressive Views" column, Boerne Star, January 3, 2020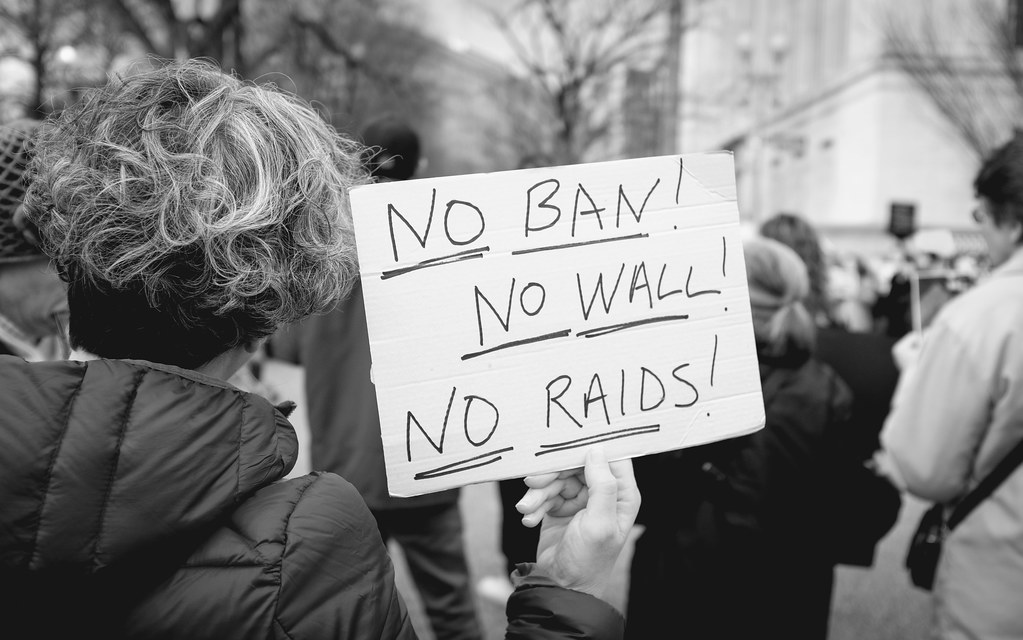 Yes, it is time to throw the White House immigration czar Stephen Miller under the bus. Miller has flown relatively under the radar while at the same time being the architect of some of the most egregious immigration policies that fly in the face of human rights, morals and decency. While the anti-immigration agenda of Stephen Miller has always been viewed as a white nationalist agenda it was not until a former editor with Breitbart News released 100 of over 900 emails outlining a white supremacist politic that he has manifested and attempted to popularize since adolescence.
While a senior in high school Miller taped a video of himself stating that "torture is a celebration of life and human dignity." The video was filmed in 2003. Given Miller's importance as a national figure his statements within the video are instructive in understanding Miller. When shared with White House spokesperson Sarah Huckabee Sanders, she said the video was created in jest and challenged its newsworthiness. However, we must believe that the recent statements of Miller, combined with their direct connection to the area of policy he works on in the U.S. government, makes them relevant.
Miller is a racist political prodigy. Just a few years after high school Miller was influencing national policy, first as a member of then Alabama Senator Jeff Sessions' staff and now as a key aide to President Trump. Miller was responsible for writing Trump's executive order that suspended America's refugee program for 120 days and banned travelers entry into the United States for 90 days from seven majority Muslim countries. Miller has masterminded some of the administration's most aggressive immigration policies, such as the now-defunct "zero tolerance" policy, which separated children from their parents at the U.S. southern border. Trump may not believe that white nationalism is a growing threat, but Democratic Representative Ilhan Omar, one of only two Muslim women in Congress, thinks Trump has one in his ranks. "Stephen Miller is a white nationalist," stated Omar. "The fact that he still has influence on policy and political appointments is an outrage." Omar linked to Miller's reported attempts to dismiss high-ranking officials within the Department of Homeland Security (DHS) because they were not hard-line enough on immigration. The former Secretary of Homeland Security, Kirstjen Nielsen, would later resign from her position as she had reportedly pushed back on Trump's wishes to reinstate family separations and Miller called her "too weak" to handle the position. With Nielsen gone, Miller has continued his assault on immigration. The white nationalist-supremacist inspired crackdown became apparent in the release of Miller's emails to Breitbart News.
Many of the emails contain links to the website VDare, a white nationalist website known for its associations with prominent white supremacists and trafficking in racist, anti-immigrant conspiracies. The emails offer a glimpse into Miller's efforts to influence media coverage and public opinion surrounding immigration. The leaked emails point to a troubling pipeline between white nationalist blogs and national policy. In addition to sending Breitbart staffers links from VDare, Miller also recommended "The Great Replacement" conspiracy theory popular with the alt-right and with Breitbart co-founder and former Trump adviser Steve Bannon.
Miller is looking for ways to reduce the number of migrants who pass their initial "credible fear" interviews, the first step in the asylum process. Most migrants pass those interviews, which are conducted by officials at U.S. Citizenship and Immigration Services. Miller stated that "My mantra has persistently been presenting aliens with multiple unsolvable dilemmas to impact their calculus for choosing to make the arduous journey to begin with." The administration has suggested that USCIS is not stringent enough and that the approval rate is too high. The Trump administration, in particular Miller, continue to skirt if not outright violate international law. Under international human rights law the United Nations has codified The Principle of Non-Refoulement. This principle states "that no one should be returned to a country where they would face torture, cruel, inhuman or degrading treatment or punishment and other irreparable harm. This principle applies to all migrants at all times, irrespective of migration status" (UN OHCHR). Eyewitness reporting and migrant victim's statements from the southern border blatantly shows that the Trump administration, Miller, DHS, BPP and ICE continually violate international law. Miller continually chips away at the legal doctrine of "Credible Fear" to fulfill his mantra-manifesto. Yes, It's Miller Time.