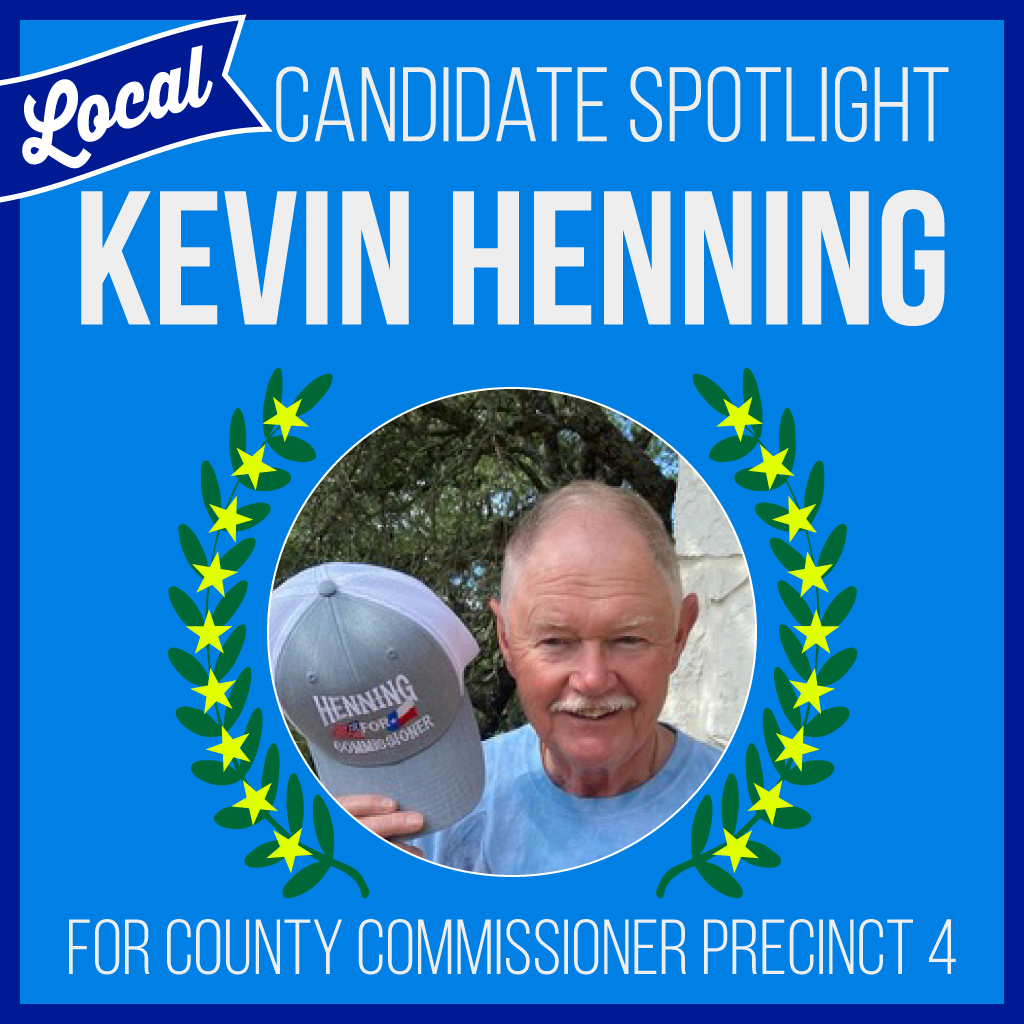 Running for: County Commissioner Precinct 4
Why we are promoting Kevin:
Kevin has been living in Kendall County for over 15 years and is the former Kendall County Democratic Party Chair. Aside from serving as the Interim Service Director in Findley, Ohio (~40,000 residents), Kevin has served as a Precinct Chair in Findlay, he chaired the Downtown Revitalization Committee, was named Chamber of Commerce Volunteer of the Year in 2003 and was honored with the Findlay Rotary "Service Above Self Award" in 2005.
In conjunction to his impressive public-service history, enough good words cannot be said about Kevin as a person. Kevin is incredibly patient, understanding, and highly intelligent. Kevin spends many hours talking with our neighbors across the aisle, first-time voters, and everyone else in between about all things policy and government. Unlike some of our Representatives, Kevin actually listens and will go out of his way in effort to try to clear up any misconceptions. Kevin carefully researches his arguments and always has data-driven stances.
Kevin will emphasize planning, expanding local control, fiscal responsibility, transparency and support for law enforcement and first responders. He does not support a gateway style road in the county believing it is unnecessary and disruptive. He believes the character and rural nature of this wonderful county must be preserved and to do that it is essential to be involved in local politics. 
Kevin was recently interviewed on Boerne Radio! Listen here.
"As your local candidate for Precinct 4 County Commissioner I want to thank you all for your support in my effort to bring more planning and new thinking to Kendall County. My campaign slogan is 'Plan for the Future – Remember the Past.' Each of us who votes can make a huge difference in the future of our city, county, state and country. Please learn about the issues and candidates and vote, please volunteer. Please be a candidate in future elections. We are approaching a national disaster and before Republican reason will return, they must be defeated at the polls. Only then can we have a reasonable dialogue.

In 1307, Scottish leader Robert the Bruce (think Chris Pine in "Outlaw King") rallied his tremendously outnumbered forces to defeat the English and bring freedom to Scotland by crying 'we must fight like wolves.' Yes, my fellow Democrats it is time for us to 'fight like wolves' or we may lose the democracy we treasure."

Kevin Henning
Questions for Kevin:
The League of Women Voters, a non-partisan pro-democracy organization, asked Kevin three questions and asked for the responses to be 100 words or less.
1. What in qualifies you to serve as Kendall County Commissioner for Precinct 4?
To be a successful public servant, listening is critical and the best way to listen is face to face. I am a petroleum engineer who had a successful 35-year career in the energy industry managing operations in Texas and throughout the world. Following my corporate career, I have 10 more years as a small business owner, volunteer and until 2021 Kendall County Democratic Party Chair. My success is directly the result of being a good listener and team builder. I have the engineering, budgeting, planning and leadership skills to be your full time county commissioner.
2. What is the most pressing issue facing Kendall County and what do you hope/plan to do about it?
Uncontrolled growth is the issue that concerns county residents and me the most. Kendall County and the Hill country are one of the fastest growing areas in the nation. This growth is spoiling the rural character of the county and is placing a huge burden on limited water resources. In 2021, Commissioners Court and the community attempted but failed to get state legislation to give county government added controls over development. In 2023, we must be successful and get the controls we need. Until then, I support a moratorium on any development requiring a variance from existing county rules.
3. What are the citizens of Kendall County telling you about county problems?
Property taxes would be the number one concern on all tax payers minds. 2022 appraisals had scary growth and our citizens and businesses want relief. Lowering the tax rate is appropriate but I pledge to find a permanent solution to out of control property tax growth. Traffic issues, Cypress Creek flooding, lack of planning and insuring public safety are often mentioned. Citizens want a fulltime commissioner who will address all these issues in an open timely manner. I also hear concerns about women's and LGBTQ rights and I pledge to protect those rights within the constraints of county government.
Learn more about:
Kevin is not asking for contributions at this time. If you want to donate please financially support KCDP or BAD or a candidate requesting donations.
Want to hear more from Kevin? Listen to his spot on Boerne Radio!