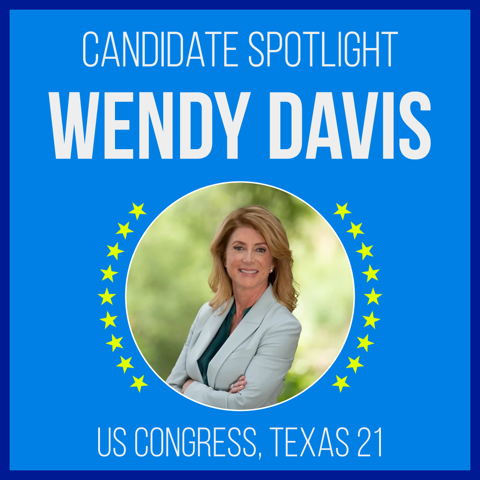 Running for: US Congress, Texas District 21
Why is this office important?
The 21st Congressional District, one of the most gerrymandered in the state, serves portions of San Antonio and Austin and a wide swath of the Hill Country, including Boerne, Kerrville and Fredericksburg. (Click here for a map.)
This representative is our voice in the US House of Representatives and will have input on a wide range of federal legislation, from healthcare to COVID response to education and more. Wendy will represent and fight for the interests of TX21 residents, rather than the interests of rich donors.
TX-21 has gone from "leans Republican" to a "toss up" district! That means this race is very competitive.
Why we support Wendy
Wendy Davis is passionate about adequate education funding, affordable healthcare, and economic justice. As a state senator, she fought against $5.4 billion in cuts to public schools and stood up (literally) for women's healthcare. She also founded a non-profit ("Deeds Not Words") that empowers young women to speak up and advocate for themselves and their communities.
Wendy earned her B.A. from Texas Christian University in 1990 and her J.D. from Harvard Law School in 1993. She was admitted to the bar in 1993. From 2009 to 2015, Davis was a member of the Texas State Senate, representing District 10.
"I'm running for Congress to assure that future generations are provided with the same opportunities that I once had. I'm running to make sure that our kids can go to good and safe schools, attend college or trade school and earn a decent living when they grow up."

Wendy Davis
Learn more about Wendy