by Kevin Henning, KCDP Chair
for the KCDP weekly newsletter, January 19, 2020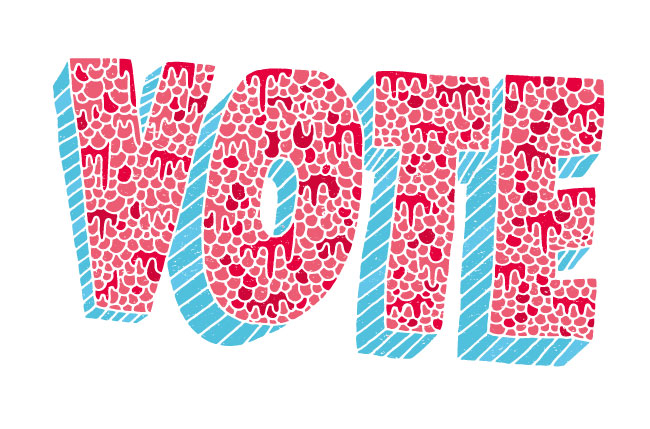 Most importantly: please vote in the Democratic Primary!
We are going to cover some voting basics in our next few newsletters. The Democratic Primary is on March 3, 2020 with early voting running from February 18 to 28, 2020. Kendall County will have 11 voting locations as in past years. The county has been approved and just last week was confirmed by the Texas Secretary of State for countywide voting to continue. This means on election day you can vote in any polling place.
In future newsletter editions we will have details on voting locations and times. You will need to determine who you will vote for in the Democratic Primary. The top line races like President, Senator and Congress will have lots of media information that is readily available but you also need to vote down ballot for offices like Railroad Commissioner, State School Board Member and the many judicial seats. That will take some work. The Hill Country League of Women Voters will have unbiased candidate information for you to review. Online organizations like Ballotpedia will also have valuable unbiased information on candidates and races. The San Antonio Express News will recommend candidates and supply a reason for their choice. It is well worth your time to check these sources out. Becky has included some general information on the Texas Railroad Commission. We will cover Texas School Board and Judicial races in the upcoming weeks.
Voter Registration Certificate
If you are registered to vote you will have received an orange voter registration certificate. If you think you are registered and have not received the card or if the information on the card is not correct, please check with the Kendall County Election Office.
If you are not registered, let us know and we will help you with the process, please email us at Kendall County Democrats.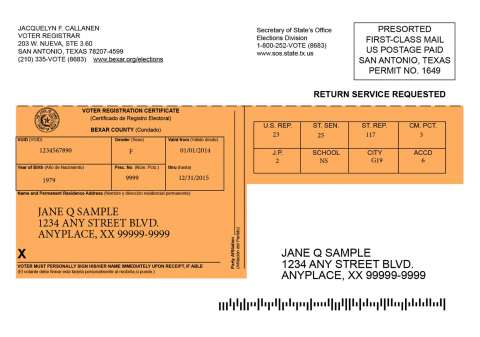 On your registration certificate (example above) you will find your precinct number and other information showing your voting districts, your voter ID number and personal information included in your voter record. It is not necessary to take the card to vote if you have a valid photo ID.
When you go to the polls to vote, you will need to present one of the seven (7) acceptable forms of photo ID. If you do not possess an acceptable form of photo identification and in the rare circumstance that you cannot reasonably obtain one, you may present a supporting form of ID (one of which is your valid voter registration certificate) and execute a Reasonable Impediment Declaration, noting your reasonable impediment to obtaining an acceptable form of photo identification, stating that the information contained in the declaration is true, that you are the same individual personally appearing at the polling place to sign the declaration, and that you face a reasonable impediment to procuring an acceptable form of photo identification. An election official will match your name to the official list of registered voters.
If you lose your certificate, notify the Kendall County Election Office in writing to receive a new one. You will automatically receive a new certificate every two years if you haven't moved from the address at which you are registered.
Remember, it is time to make our presence known so when you go vote in the Primary, don't hesitate to politely announce:
"I'm a Democrat and I want to vote in the Democratic Primary."
This week's newsletter
Learn about voting for the Texas Railroad Commission, about Census 2020, and more!
Subscribe to our newsletter
News from the Kendall County Democratic Party in your inbox every week